HealthMeasures User Conference
September 27-28, 2017
Chicago, Illinois
Featured Speakers & Sessions
These featured sessions will explore trends, issues, and technologies influencing outcomes assessment:
Wednesday, September 27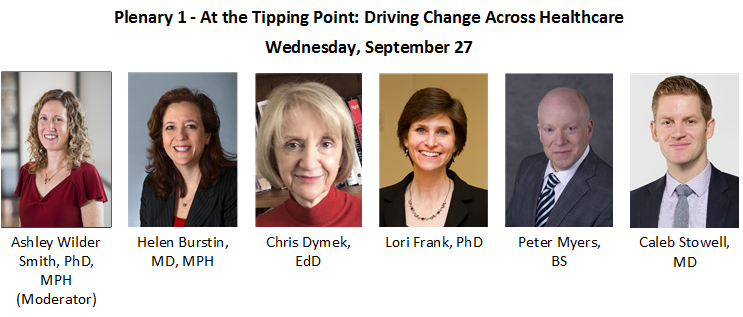 A recent Annals of Surgery editorial underscored the power of outcome assessments to produce value-based, patient-centered care. Together, we will explore trends and issues impacting the adoption of outcomes assessments as healthcare change agents.
Moderator: Ashley Wilder Smith, PhD, MPH, Chief, Outcomes Research Branch, National Cancer Institute (NCI)
Panelists:
Helen Burstin, MD, MPH, Chief Scientific Officer, National Quality Forum (NQF)
Chris Dymek, EdD, Director, Health IT Division, Center for Evidence and Practice Improvement, Agency for Healthcare Research and Quality (AHRQ)
Lori Frank, PhD, Program Director, Evaluation & Analysis, Patient-Centered Outcomes Research Institute (PCORI)
Peter Meyers, BS, Program Director, Patient-Reported Outcomes, Partners HealthCare
Caleb Stowell, MD, Enterprise Director of Value Based Care, Providence St. Joseph Health
Thursday, September 28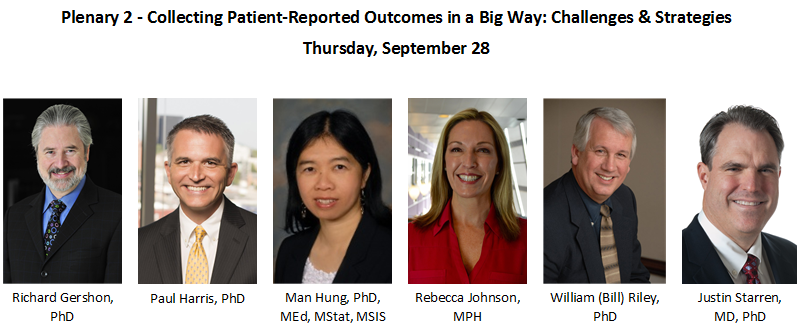 Healthcare executives and clinical leaders recently surveyed by NEJM Catalyst forecast that patient-generated data will be among the top 3 most useful sources of healthcare data within the next 5 years. This interactive discussion will explore challenges, strategies, and the potential associated with large-scale collection of patient-generated data for clinical and research applications.
Moderator: Richard Gershon, PhD, Vice Chair for Research and Professor, Dept. of Medical Social Sciences, Northwestern University
Panelists:
Paul Harris, PhD, Professor, Dept. of Biomedical Informatics, Vanderbilt University School of Medicine
Man Hung, PhD, MEd, MStat, MSIS, Associate Professor, Dept. of Orthopaedics, Division of Public Health, University of Utah
Rebecca Johnson, MPH, Associate Director of Research, Dept. of Orthopaedics, University of Utah
William (Bill) Riley, PhD, Director, NIH Office of Behavioral and Social Sciences Research
Justin Starren, MD, PhD, Deputy Director, NUCATS Institute; Director, Center for Data Science and Informatics, Northwestern University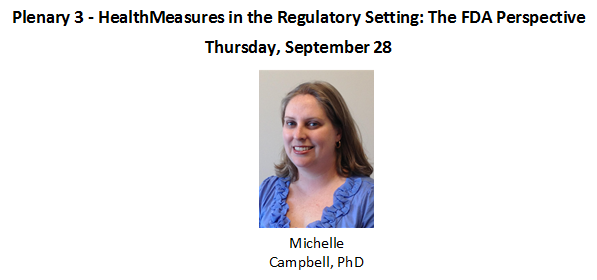 This session will provide insight into the Clinical Outcome Assessment (COA) Qualification Program and what the FDA looks for when evaluating qualification submissions. We will also hear updates on qualification submissions involving HealthMeasures, and discuss how data collected by HealthMeasures users can help inform the FDA perspective.
Speaker: Michelle Campbell, PhD, Center for Drug Evaluation and Research, U.S. Food and Drug Administration (FDA)
Program Tracks
In addition, conference attendees can choose among more than 25 breakout sessions cutting across 4 areas of focus within person-centered assessment:
Advancing Clinical Care: Highlighting user experiences and best practices for the use of HealthMeasures in clinical practice and clinical research.
Enhancing Quality Measurement: Featuring information, user case stories, and dialogue on how HealthMeasures can be used to measure care quality.
Deploying Digital Tools: Spotlighting assessment technologies such as apps, EHR integration, the HealthMeasures API, and cloud-based services.
Driving the Science: Exploring recent findings and new directions in measurement science.
We thank the following organizations for their contributions as 2017 HealthMeasures User Conference sponsors: Bristol-Myers Squibb, Corporate Translations, Oberd, BrightOutcome, Pfizer, FACIT.org/FACITtrans.