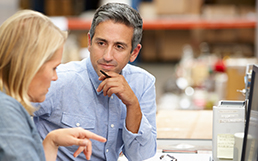 About HealthMeasures Scores
Standardized Scores
HealthMeasures use standardized scores. The patient-reported outcome (PRO) measures of PROMIS®, Neuro-QoL, and ASCQ-Me® as well as the self-reported NIH Toolbox® measures use a T-score metric in which 50 is the mean of a relevant reference population and 10 is the standard deviation (SD) of that population. The NIH Toolbox performance tests of cognitive, motor, and sensory function use standard scores, but not T-scores. You will find a summary of this information for each HealthMeasures system in the pages of this section.
Item Response Theory
HealthMeasures are based in item response theory (IRT). IRT assumes that an individual's responses on a set of items or questions are related to an unmeasured "trait." An IRT model estimates how individuals with given trait levels will respond to items with specified characteristics. Learn more.
Learn More About Scoring and Interpretation
Q. What options do I have for obtaining scores?
A. Scores for some HealthMeasures can be generated automatically by the HealthMeasures Scoring Service, powered by Assessment CenterSM. They are generated automatically in some data collection systems and can also be computed by hand. Learn more
Q. What does a score mean?
A. We've produced a helpful guide with tools and techniques you can use to interpret scores for each of the HealthMeasures measurement systems. Learn more
Q. How do HealthMeasures scores compare to scores on other measures of the same (or similar) concepts?
A. The PROsetta Stone® project provides mathematical links between measures' scores. Learn more